Charpy Impact Testing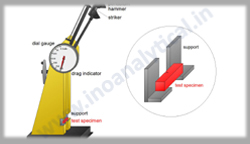 We Ino Analytical Laboratories are leading Lab, Laboratory , Services, Providers of Charpy Impact Testing . Charpy Impact Testing estimates the measure of energy ingested during break of an example to decide its Ductile to Brittle Transition Temperature (DBTT), which can be diagramed in our report. Testing incorporates test planning of three examples for each test and is utilized principally for prepares which display temperature subordinate conduct identifying with durability of the material at high strain. This durability is ordinarily identified with course of the rolling or grain stream of a producing. Materials are normally harder along the bearing of rolling and not as intense across the heading of rolling.
We Ino Analytical Laboratories are instrumental in offering Charpy Impact Testing in Mumbai, Thane and Navi Mumbai. This kind of testing is regularly indicated in welding codes for pressure vessels, valves and fittings utilized in the oil and gas industry, related channeling, pipelines, open air structures, greetings rise structures, towers, spans, horticultural vehicles, modern gear, and other basic structure, framework, and designing applications. Examples required for Charpy Impact Testing are ordinarily cut from the genuine part or weldments utilizing a grating remove saw or a band saw with low warmth input. Base metal example is 55 mm (about 2.25" inches) long, 10 mm thick and 10 mm wide. Centerline of the Charpy example is scored by standard with an uncommon propose to make the necessary V-Notch with the fitting measurements and surface completion. Sub-size examples can be made with 7.5 mm x 10 mm or 5 mm x 10 mm or 2.5 mm x 10 mm. Strung clasp and line have exceptional contemplations. Examples are tried either at room temperature or at a predetermined temperature, for example, - 20ºC, - 10ºC, 0ºC, +10ºC, +20ºC.