Construction Water Testing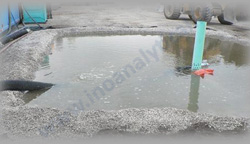 We Ino Analytical Laboratories are leading Lab, Laboratory , Services, Providers of Construction Water Testing. Water is one of the main components in development and is needed for the readiness of mortar, blending of concrete cement and for restoring work and so on The nature of water utilized straightforwardly affects the strength of the engine and concrete cement in the development work. The water utilized for restoring and blending should be liberated from high amounts of antacids, corrosive, oils, salt, sugar, natural materials, vegetable development, and so on that may be injurious to blocks, concrete or iron. Pollutants in water can cause metal erosion, bring undesirable sediment and dirt into the substantial, unfavorably influence the solidifying system of cement and furthermore lessen the strength by even 25%. Consequently the need to guarantee the nature of water utilized during development is fundamental.
We Ino Analytical Laboratories are instrumental in offering Construction Water Testing in Mumbai, Thane and Navi Mumbai. Prior to going for the testing of test of water it ought to be actually taken a look at that , it will be same water proposed to be utilized for cementing, due account being paid to occasional variety. The example will not get any treatment prior to testing other than that utilized in the normal inventory of water proposed for use in concrete. The example will be put away in a perfect holder which ought to be washed by the comparable water which is tried well for development. In the event that we talk about the Average multi day's compressive strength of something like three 15 cm substantial blocks ready with water tried before for the substantial or convenient water to be utilized will not be under 90% of the normal strength of three comparable substantial shapes ready with refined water.