Izod Impact Testing Lab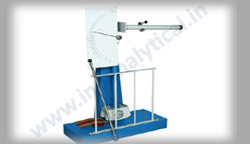 We Ino Analytical Laboratories are leading Lab, Laboratory , Services, Providers of Izod Impact Testing Lab. Impact testing measures a material's toughness, or its capacity to absorb energy during plastic deformation. Toughness considers the material's strength as well as its ductility. There are two types of toughness mechanisms, and in this case, the notch should be viewed as a very high local stress concentration. In ductile material, the first sort of mechanism occurs. This is due to the fact that very high stresses at the notch's end create local material yielding and local plastic flow at the crack tip. As a result, the sharp point of the notch is blunted, reducing the stress concentration effect. The second mechanism can be found in fibres, wood materials, and other materials with a weak interface. A crack sink is created when local tensile stress develops at the front of a propagating crack, which opens up the interface and essentially increases the radius of the fracture tip. With a smaller notch radius, the stress concentration at the notch rises.
We Ino Analytical Laboratories are instrumental in offering Izod Impact Testing Lab in Mumbai, Thane and Navi Mumbai. A pendulum is suspended from a short shaft that spins in a ball bearing and swings halfway between two stiff upright stands supported on a rigid base towards the bottom of which the specimen supports anvils. The striking edge, often known as the knife edge, is slightly rounded. The pendulum may be adjusted to any desired height and then rested there. A catch holds it in place at the beginning, and a trigger allows it to be released. When the catch is released, the mechanism is built in such a way that the pendulum is not disturbed. When compared to the strengths obtained under slowly applied loads, impact strengths are typically smaller. A notched test piece is grasped vertically with the bottom of the notch in the same plane as the upper face of the grips in India's standard izod impact test, which consists of shattering the specimen with one blow from a swinging hammer under prescribed conditions. The strike is delivered at a predetermined location on the face with the notch. When a striker hits the specimen, it absorbs the energy until it yields. At this stage, the specimen will begin to distort at the notch due to plastic deformation. At the plastic zone, the specimen continues to absorb energy and work hardens until it can no longer absorb any more energy, at which point it fractures.