Metals Hardness Testing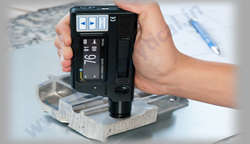 We Ino Analytical Laboratories are leading Lab, Laboratory , Services, Providers of Metals Hardness Testing. A hardness test is usually done by pressing a specially dimensioned and loaded item (indenter) into the material's surface. The hardness of a material is assessed by measuring the depth of indenter penetration or the size of the indenter mark. Material hardness testing measures a material's resistance to penetration in order to assess its strength. Because the stated hardness value shows how readily the material can be machined and how well it will wear, hardness test results may be highly valuable when selecting materials. Metals are regularly tested for hardness to determine the value of treatments and coatings. Testing the hardness of alloys is critical to our business as a producer of precision metal tubing. As part of our quality control methods, we assess the hardness of our high-grade tubes. These tests are simple to conduct, inexpensive, and frequently non-destructive to the components being tested.
We Ino Analytical Laboratories are instrumental in offering Metals Hardness Testing in Mumbai, Thane and Navi Mumbai. The capacity of a substance to resist surface indentation or scratching is referred to as hardness. Because it is not a basic material feature, its value fluctuates depending on the test technique employed. As a result, depending on the alloys utilised and the kind of tubing being made, we use a variety of testing procedures. The basic principle is that hardness is determined by indenting a material with a continuous load on a particular indentor in contact with the component surface for a set period of time. Commonly used procedures such as the Rockwell test are not appropriate for evaluating thin wall or small diameter tubes since the comparatively large load (90kg) might deform surfaces or even punch holes through the tube walls. Due to the curvature of the surface, the ball impression may also go away. Vickers hardness testing is thought to be more accurate in this situation. When employing Vickers tests, however, an equivalency to the Rockwell scale is frequently sought.