Metals Tensile Testing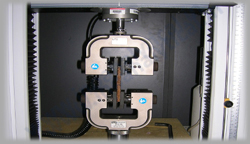 We Ino Analytical Laboratories are leading Lab, Laboratory , Services, Providers of Metals Tensile Testing . Material strength testing, utilizing the elastic or pressure test strategy, includes applying a consistently expanding burden to a test up to the weak spot. The cycle makes a pressure/strain bend showing how the material responds all through the elastic test. The information created during elastic testing is utilized to decide mechanical properties of materials and gives the accompanying quantitative estimations are Tensile strength, otherwise called Ultimate Tensile Strength (UTS), is the greatest pliable pressure conveyed by the example, characterized as the most extreme burden partitioned by the first cross-sectional space of the test. Yield strength is the pressure at which time super durable (plastic) twisting or yielding is seen to start. Ductility estimations are regularly lengthening, characterized as the resist, or after, the place of crack, and decrease of region after the break of the test.
We Ino Analytical Laboratories are instrumental in offering Metals Tensile Testing in Mumbai, Thane and Navi Mumbai.The test is safely held by top and base holds connected to the malleable or widespread testing machine. During the strain test, the grasps are moved separated at a consistent rate to pull and stretch the example. The power on the example and its uprooting is ceaselessly observed and plotted on a pressure strain bend until disappointment. The estimations, rigidity, yield strength and flexibility, are determined by the professional after the elastic test example has broken. The test example is assembled back to gauge the last length, then, at that point this estimation is contrasted with the pre-test or unique length to acquire extension. The first cross segment estimation is additionally contrasted with the last cross segment to acquire decrease in region.