Pitting Corrosion Testing Lab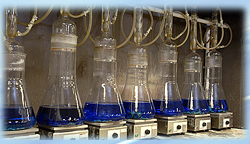 We Ino Analytical Laboratories are leading Lab, Laboratory , Services, Providers of Pitting Corrosion Testing Lab. At test temperature, generally up to 60°C, Element conducts pitting corrosion testing in accordance with ASTM G48 A. The materials are exposed to a 6 wt percent ferrite chloride solution for 72 hours in order to perform the test (typically 24 hours). The ASTM A923 procedure – C test is a variant of the ASTM G48-A test for duplex stainless steels. The Critical Pitting Temperature (CPT) method is used to identify the temperature at which a material begins to pit. In CPT, specimens are subjected to increasing temperatures for 72 hours at a time. The temperature is raised until pitting occurs, at which point the Critical Pitting Temperature is recorded (CPT). Pitting corrosion of metals and alloys is one of the most common failure mechanisms. Pits induce failure by perforating the material and causing stress corrosion fractures.
We Ino Analytical Laboratories are instrumental in offering Pitting Corrosion Testing Lab in Mumbai, Thane and Navi Mumbai. Pitting is a typical failure mechanism in many metals. It's usually linked to certain anions in solution, most notably the chloride ion. Pitting has a tiny beginning. Pits form at microscopic and submicroscopic scales. Techniques that quantify small events are needed to detect the early stages of pitting. This paper explains the strategies used to do this as well as the metrics that result. Some metals have preferred pit nucleation locations, which are defined by metallurgical microstructural and microcompositional characteristics. However, because site specificity is only seen in a few metals, this is not the phenomenological origin of pitting. The mechanics of nucleation are discussed, and it is demonstrated that the events are microscopically violent. The capacity of a nucleated event to endure a sequence of phases necessary for it to reach stability is explored. Nucleated pits must repassivate if they do not spread. There are, however, multiple states of propagation, each with a finite chance of survival.