Pull out Testing Facilities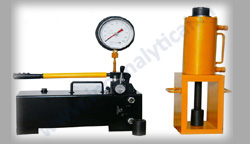 We Ino Analytical Laboratories are leading Lab, Laboratory , Services, Providers of Pull Out Testing Facilities. Pull-out tests are commonly used to determine a geosynthetic's anchoring or pull-out capability. This capability is critical in instances when the geosynthetic is anchored into stable ground beyond the zone of failure, such as retaining walls, slopes, and bridge across voids. In applications where soil moves relative to the geosynthetic, such as reinforced roads, the test may also be used to measure interface shear resistance and stiffness qualities.
We Ino Analytical Laboratories are instrumental in offering Pull Out Testing Facilities in Mumbai, Thane and Navi Mumbai. The test is carried out in an ASTM D6706 apparatus, with the dimensions indicated as minimums that may need to be raised based on the geosynthetic structure, soil particle size, and measures for minimizing side-wall friction. An airbag is put between the top of the soil and a response frame to ensure normal stress confinement. The front of the box is equipped with a sleeve that extends a minimum of 150 mm inside the box where the geosynthetic enters. The sleeve's function is to decrease the amount of normal-tension created as the geosynthetic is dragged out along the front wall of the box.