Third Party Approved Laboratory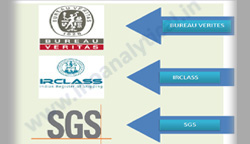 We Ino Analytical Laboratories are leading Lab, Laboratory , Services, Providers of Third Party Approved Laboratory. Testing by a third-party certified laboratory that the CPSC has approved to execute the specific tests for each children's product safety regulation is referred to as third-party testing. The laboratories listed below have been approved by the CPSC to test for conformity with the children's product regulations. Here's a video lesson as well as some good questions to ask the lab. Third-party testing and certification is a quality control procedure in which a product is reviewed by an outside organisation to check if it fulfils specific criteria. Typically, testing focuses on the production phase and how well the completed product works under various situations. Though the great majority of firms will conduct their own quality control tests in-house, using an industry-recognized third-party guarantees that the results are free of bias and skewing.
We Ino Analytical Laboratories are instrumental in offering Third Party Approved Laboratory in Mumbai, Thane and Navi Mumbai. If a product passes all of the required testing, it will be certified, which will usually come in the form of a written assurance or a graded result based on performance. Third-party testing is commonly used by manufacturers so that potential customers may make an educated purchase decision and buy with confidence. The mark of the certifier is generally visible on packaging, in marketing materials, or on the product itself. A third-party can examine a variety of things, but the most frequent is a final product inspection to ensure it meets specifications. A pre-production inspection of raw materials to ensure their quality, as well as a during-production inspection of randomly selected units to ensure manufacturing is proceeding as planned, are examples of other sorts of checks.