WPQR Testing Laboratory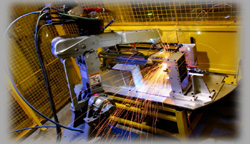 We Ino Analytical Laboratories are leading Lab, Laboratory , Services, Providers of WPQR Testing Laboratory. The WPQR often includes any supporting paperwork, such as material specifications, electrode specifications, and shielding gas requirements. The document that qualifies the Welding Procedure Specification is the Welding Procedure Qualification Record. A process qualification plate is welded to the code criteria in order to qualify your WPS. To confirm that the WPS was followed, the actual test parameters are captured at the time of welding. All mandatory testing, destructive and non-destructive, is also documented. X-ray exams, ultrasonic examinations, tensile testing, bend testing, and, if necessary, impact testing are examples of these tests.
We Ino Analytical Laboratories are instrumental in offering Pitting Corrosion Testing Lab in Mumbai, Thane and Navi Mumbai. The WPQR brings together all of the information from the WPS and adds the test findings to create a comprehensive document that validates the welding standard. Unless you qualify under American Welding Society (AWS) requirements, this document is also needed by all codes. Under some circumstances, the WPS may be regarded prequalified, obviating the need for the WPQR. Welder Qualification is a technique that ensures that the welder and the welding operation are compatible. The Welder Qualification examines the welder's ability to weld an item in a defined welding position, such as "Overhead Weld Procedure," "Vertical Weld Procedure," "Vertical Pipe Weld Procedure," and so on, utilising specific consumables and materials, travel speed, amps, and volts. The welder's ability to perform in the field in accordance with the required specifications will be demonstrated through various NDT and mechanical testing regimes such as x-ray, visual, die penetrant ultrasonis testing, or mechanical testing such as bend, torsion, tensile, or macroscopic-examination testing.