Chemical Testing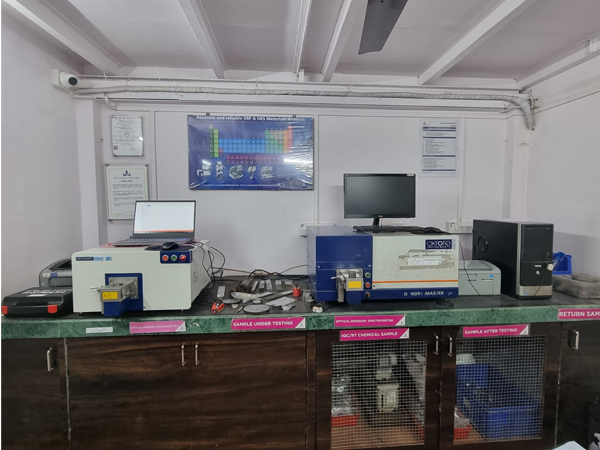 With the use of Optical Emission Spectrometer INO Analytical Laboratories can provide Elemental analysis from ppm to percentage level ensured by use of CRM Standards for various products.

Instruments Used :
Optical Emission Spectrometer (OES-Spectro)
OXFORD INSTRUMENTS
Make - Model – Foundry – Master Expert
Standard Methods followed :
Bureau of Indian Standards (BIS) &
American Society for Testing and Materials (ASTMs)
Approval :
National Accreditation Board for Testing Calibration Laboratory (NABL)
Chemical Testing in the Products
Purity of the Sample.
Impurities at PPM Level.
The products can be in a form of Plates, Sheets, Rods, Bars, Structural Steels, Forgings, Die castings, Drillings or Turnings etc
Ferrous Metals
Carbon Steel
Low Alloy Steel
Stainless Steel
Free Cutting Steel
Cast Iron
Tool Steels etc..
Non-Ferrous Metals
Copper Base: Pure Copper, Brass, Bronze and Alloy.
Aluminium Base: Pure Alluminium, Alloys and Castings.
Nickel Base: Pure Nickel, Cupronickel, Haste Alloys and Alloys.
Lead Base : Pure Lead, Solders & Its alloys.
Titanium Base : Pure Titanium & its alloys.